Gueydan High School has a brand new club! As of January 9, GHS is now home to the Movie Club. Sponsored by Mr. Brock Meaux, the club will be for students in grades 9 through 12 who have a GPA above 2.5 and take care of their work in the classroom. They will meet each month to watch and discuss movies as a group.
"I love music, obviously, but movies are right up there for me," said Mr. Brock. "I'm looking forward to sharing my love of movies with these students, and I can't wait to hear what they have to say about them." Discussion will be student-led, and we will cover a range of topics. Plot and characters will be discussed, but students will also do other things, like discuss who they thought were the best and worst actors in the movie, what would they change if they were the director, and crown what they felt was the most rewatchable scene, pitched to them as "if you have 5 minutes of this movie to show to someone to get them to watch the rest of the movie, what would it be?"
In addition to discussion, a different student will be chosen for each movie to serve as our official Critic. That student will write a review of the movie, summarizing it and giving their (and our) thoughts on it, to be published on our school website and Facebook. The students chose 9th grader Christopher Foreman to serve as Critic of our first movie. We have also started an official Instagram account that will be run by our Public Relations officers to keep everyone up-to-date on the club (find us at gueydanmovieclub).
Students will also have a say in what they watch. Each month, students will be given a theme or genre, then they will nominate and vote on movies, with the winner being that month's viewing. The first theme is ADVENTURE, and students are currently voting to see what wins between "Mary Poppins Returns," "The Maze Runner," "The Mummy," "Puss in Boots: The Last Wish," and "Uncharted." The next genre will be revealed after watching and discussing January's movie.
"I'm very thankful to Mrs. Nadine, Mrs. Tiffini, and all of our faculty at GHS for being so supportive as we try to get this club off the ground," continued Mr. Brock. "I love Gueydan High, and this was a cool way to try and give our students something fun and rewarding if they keep up their GPA, while also hopefully learning more about the craft of making film beyond what they see on the screen."
Mr. Brock finished, "I'd also like to give a special shout-out to Mr. Clayton Chauvin and Kaplan High School. They started a Movie Club last year, and it looked like so much fun. Mr. Chauvin was an open book when I had questions about their club, and I really want to thank them for being awesome and inspiring. I hope our kids at GHS enjoy it as much as they do."
Finally, at our meeting on Tuesday, January 17, students nominated and voted on the first-ever officers of the GHS movie club. They are:
President: Layne Porter
Vice President: Riana Harris
Secretary: Heather Fontenot
Public Relations: Kennedi LeBlanc and Reina Petry
Critic: Christopher Foreman, others
Congrats to our officers. See you at the movies!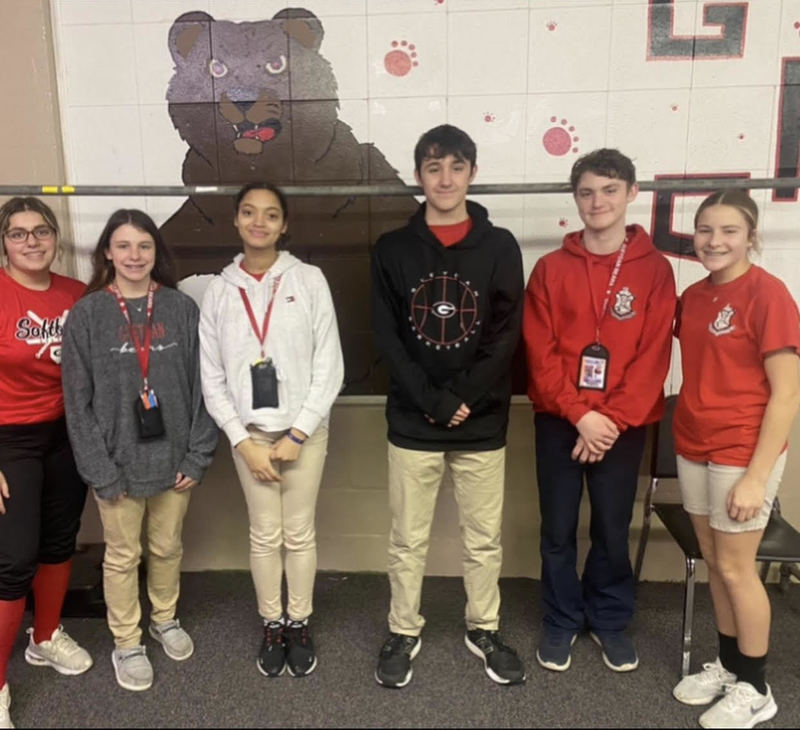 Pictured (L to R): Reina Petry, Heather Fontenot, Riana Harris, Layne Porter, Christopher Foreman, Kennedi LeBlanc