Some of the best students and teachers in Louisiana are right here in Gueydan, and we think they deserve some recognition, so this is our chance to get to know them a little better. This is our Student Spotlight on GHS 11th Grader Lexie Guillory.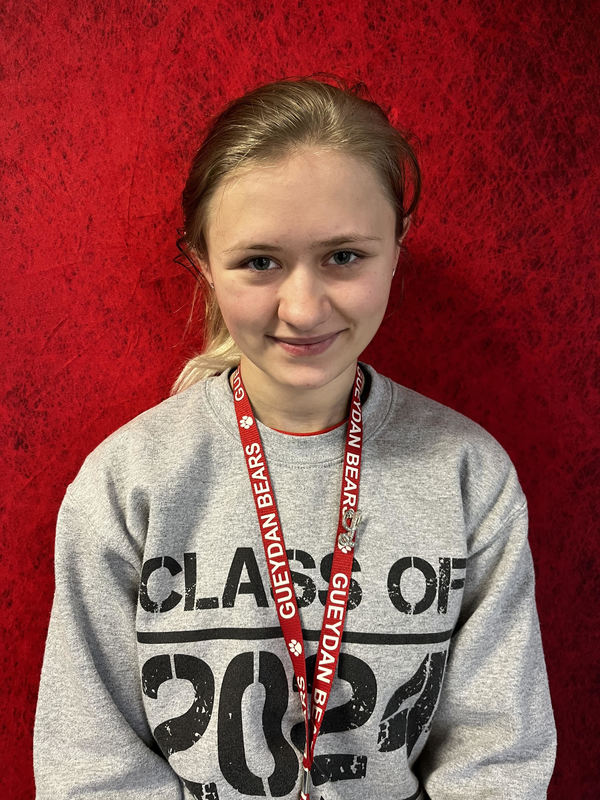 What's your name?
Lexie Guillory
Do you have a nickname?
Lex, LexLex, Alexis
What grade are you in?
11th Grade
Are you a part of any clubs, activities, or sports here at GHS?
Band, Beta Club, And Manger of Basketball
What do you love about being a Gueydan Bear?
I love the teachers and the kind faculty and the learning opportunities given.
What's your favorite class this year?
BCA
Who's your favorite teacher you've ever had at GHS? What did you love about being in their class?
Coach Kern and how he always adds funny discussions in his lessons
What's your favorite school lunch (served in our beautiful new cafeteria)?
Red beans and rice
What event(s) do you look forward to the most at school every year and why?
The PBIS activities and Prom in April
If you could pick any 3 GHS students to go with you on a cross country road trip, who would they be? Where would you go?
I would pick Brooke Vincent, Jolynn Conley, and Gracie Guidry and we would go to Destin, Florida.
What's your best/favorite memory from your time as a Gueydan Bear so far?
Homecoming week because of the fun dress up days
If you could give one piece of advice to future Gueydan Bears, what would it be?
Always do your work ahead of time and pay attention in classes.
Do you have any music, books, movies, or TV shows that you love?
I love watching the tv show Young Sheldon.
Do you have any interests or hobbies outside of school?
I love hunting and riding side by sides
What are your goals for the future?
Attending an Academy and becoming a Police Officer